Brittle Bones Counselling
DisabilityPlus supports you with therapists who have Brittle Bones; this enables full cultural support. Our Brittle Bones Counselling is with therapists with the lived experience needed to understand the complexity of living with a genetic disorder. Our therapy supports you with mental & emotional health issues to allow you to have a brighter future.
Our Service supports people with mental health, whether pre-existing issues have worsened or a new condition that stems from brittle bones. Our specialist therapists understand the problems a genetic condition can have on a person's mental & emotional health.
Mental Health
Most people with brittle bones do not have mental health problems. however, some people can realise that they are becoming depressed & anxious. Nevertheless, The bones that make up your spine (vertebrae) can weaken to the point that they crumble and collapse, which may result in back pain, lost height and a hunched posture. Bone fractures, particularly in the spine or hip, are the most serious complications of osteoporosis. People with BB who have some or more complexities may lead to more serious mental & emotional health conditions now or in the future.
"You gain strength, courage and confidence by every experience in which you really stop to look fear in the face.
Cultural Understanding
Rare genetic long-term conditions such as OI can create a lack of understanding of how your condition can affect your mental health. With our mental health team who have brittle bones, we can culturally match you from the very first session. Our brittle bones counselling team supports your mental health; however, specialists can also signpost you and share experiences that create a more holistic relationship between you and the counsellors.
Psychological Support
We can support you with your emotional & mental health, our therapists work with people who have varying degrees of brittle bones. The therapy focuses on assisting you to overcome various psychological barriers.
Our team understands that living with brittle bones can be difficult, but we know it can be manageable. Our treatment plans focus on helping you think more clearly & gain a purpose.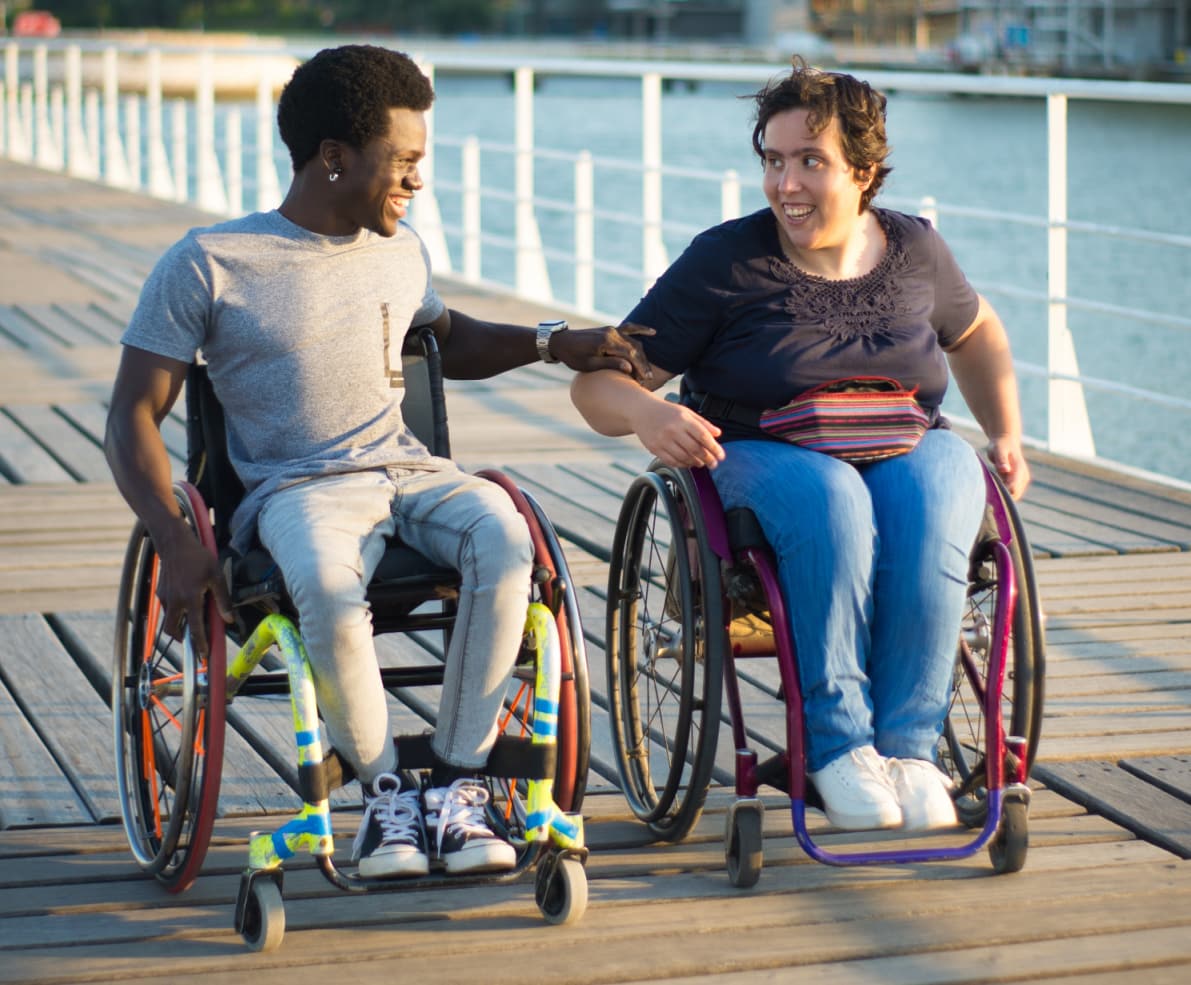 Brittle Bones Counselling will help you understand why you do things in the way you do; counselling will help you uncover distorted or unhealthy thinking patterns.
Our referrals cater for all types of requirements, you can contact us directly for more information or complete a self-referral form to move to the next step. We reply to you within 24 hours Monday to Friday.
NHS Applications
For DisabilityPlus to make an NHS application for you based on your condition, we must satisfy specific criteria before making the NHS Application. 
The application for you must include one of the below disabilities or life-changing conditions.
Loss of Limb or Mobility

Long Term Medical or Physical Condition

Brain Injury or Concussion

Spinal Cord Injury

Cerebral Palsy

Muscular Dystrophy

Osteogenesis Imperfecta

Sight Loss

Sudden Acquired Hearing Loss

Tinnitus or Vestibular 

Epilepsy

Grief 
Self-Paid Services are available if you do not qualify for an NHS application with DisabilityPlus.
Profesional Organisations
We support many organisations from solicitors, employment support all the way through to smaller organisations that need support. Contact us to find out more. 
Self-Pay Plans
We offer self-pay plans including pay by session & saver packs where you can buy groups of 3 & 6 sessions at reduced price points. 
Mixed Plans
Being a major service, we can offer a mixed plan where you start paying privately & then if funding comes in you can switch to a funded model of counselling.
Contact us to find out more
Email
info@disabilityplus.co.uk
Office Address
DisabilityPlus House, 25 Pembroke Avenue, Walton-on-Thames, Surrey, KT12 4NT
Hours
Mon – Fri: 9am – 5pm
Weekends: Clossed